H-E-B Helping Heroes Program
Vicky Pink | 9/13/2012, 11:46 a.m.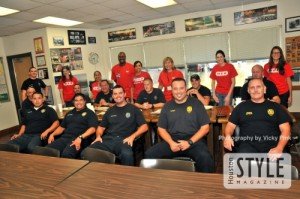 Photography by Vicky Pink.
On Friday, September 7, 2012, Houston Style Magazine was on hand at as 3,000 H-E-B Employees gave Texas Firefighters a helping hand in honor of September 11 for their Helping Heroes Program. H-E-B employees were at 532 different firehouses serving meals to firefighters and helping out around the station throughout the day. This is the eighth year that Helping Heroes program has allowed H-E-B Partners to celebrate and honor local fire departments and commemorate the heroism of civil servants throughout the state.  This community service project honored September 11th as a National Day of Service and Remembrance that pays tribute to the men and women rescue teams who risked and lost their lives at the World Trade Center. H-E-B volunteers across the state performed service and maintenance projects such as yard work, station cleaning, painting, equipment cleaning and preparation work. Helping and honoring first responders such as fire departments is a key part of H-E-B's Helping Here. philosophy, which promises to stand by and support our communities.