First Black Jasper, Texas Police Chief Files Lawsuit Against City, Mayor and Local Radio Station After Wrongful Termination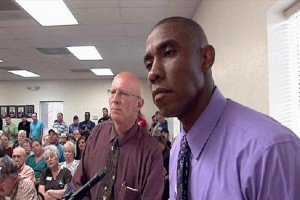 "Mayor Mike Lout used his influence and his radio station in an unrelenting pursuit to get Rodney Pearson out of office and the City Council members who originally voted him in," says Cade Bernsen, Pearson's attorney. "Rodney Pearson endured months of harassment, slander and racial discrimination only to be unfairly terminated and run out of town."
The suit alleges Jasper city leaders subjected Pearson to ongoing, purposeful discrimination and unlawful employment practices, including the illegal public release of Pearson's personnel file and background check. Pearson accuses co-conspirators of the Mayor of slandering him with racial slurs on the radio station's Facebook page and orchestrating false allegations of assault against him. The suit alleges city leaders also knowingly submitted forged signatures on recall petitions to remove black Council Members, creating a white majority that publicly fired Pearson without cause. This was the first recall in the history of Jasper. Mayor Lout unlawfully blocked a City Council investigation concerning the recall illegalities.
Rodney Pearson was the first officer to discover James Byrd, Jr.'s body after his racially motivated dragging death in 1998. Pearson served as a Texas State Trooper for 20 years and was promoted numerous times with multiple commendations. In 2005, Pearson was awarded his Master Peace Officers certificate. Until February of 2011 Rodney Pearson served as Chief of the Jasper Volunteer Fire Department.
The Bernsen Law Firm has more than 52 years of combined experience helping people harmed due to the negligence of others. With principal offices in Beaumont the firm serves clients in the Southeast Texas region. The Bernsen law firm focuses on personal injury law and litigation, civil rights and discrimination, commercial litigation and family law.