California governor OKs ban on gay conversion therapy, calling it 'quackery'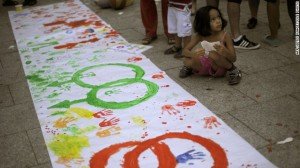 Style News Wire
Therapy aimed at turning gay kids straight will soon be illegal in California, with the state's governor declaring he hopes a new law will relegate such efforts "to the dustbin of quackery."
The legislation -- which the state Senate passed in May, Gov. Jerry Brown signed into law this weekend and will take effect January 1 -- prohibits attempts to change the sexual orientation of patients under age 18.
"This bill bans non-scientific 'therapies' that have driven young people to depression and suicide," Brown tweeted. "These practices have no basis in science or medicine."
But practitioners of so-called "reparative therapy" say the assertions of the governor and gay rights advocates "just are not true," according to David Pickup, a spokesman for the National Association for Research and Therapy of Homosexuality.
"We do competent therapy, therapy that truly works," Pickup, who himself underwent such therapy and now administers it to others, said Monday on CNN.
"For them to have a bill that says, 'No, we can't even talk about these issues, we can't do anything to help these children resolve their homosexual feelings and maximize their heterosexual potential' -- that's the height of political and therapeutic irresponsibility."
Pickup alluded to a report by the American Psychiatric Association that, he says, doesn't find any "proof that (the therapy) causes harm."
But the psychiatric organization -- which is the world's largest of its kind, with more than 36,000 members -- determined, in fact, that reparative therapy poses a great risk, including increasing the likelihood or severity ofdepression, anxiety and self-destructive behavior for those undergoing therapy. Therapists' alignment with societal prejudices against homosexuality may reinforce self-hatred already felt by patients, the association says.
"The longstanding consensus of the behavioral and social sciences and the health and mental health professions is that homosexuality per se is a normal and positive variation of human sexual orientation," the association says.
After the bill passed the state Senate, Equality California spokeswoman Rebekah Orr praised the "right first step in making sure that young people are protected from these unscrupulous therapists who are really engaging in therapeutic deception that is based on junk science."
"This law will ensure that state-licensed therapists can no longer abuse their power to harm LGBT youth and propagate the dangerous and deadly lie that sexual orientation is an illness or disorder that can be 'cured,'" said Orr's organization, which describes itself as the largest statewide advocacy group in California working for "full equality" for lesbian, gay, bisexual, and transgender people.
Peter Drake, who once participated in reparative therapy, said the bill protects youths from "a very, very dangerous therapy that doesn't work and leaves a lot of people feeling despair and hopelessness."
Yet Pickup insists that the "children who walk into my office ... crying, depressed, lonely, gender-identity confused and sexually confused" ask for help voluntarily, because they are "distressed."
Thousands believe, he claims, "believe there's a cause-and-effect nature of homosexuality" that can be brought about by instances of abuse and issues like "gender identity inferiority," "un-met needs from ... usually the same-sex parent" and other "inner wounds that we discover in therapy."