Trae to File Lawsuit against 97.9 The Box and Radio One Today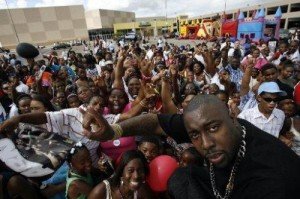 Trae, whose real name is Frazier Thompson III, is planning to sue for general damages to his reputation, character, standing in the community, mental suffering, loss of professional opportunities, performance revenue and record royalties. He will hold a press conference Wednesday to announce the filing of the lawsuit.
The action stems from the station's alleged "ban" of Trae's music after the rapper was involved in an on-air altercation with Madd Hatta Morning Show DJ Nnete. Trae then mentioned Nnete's weight in a mixtape.
The suit, which will be filed by Houston attorney Warren Fitzgerald Jr., alleges that Trae was the subject of a radio ban after Nnete falsely accused Trae during an on-air interview of causing the violence which occurred at public festival which he sponsored. Ironically, Trae has arguably been the most active Houston rap artist when it comes to serving the local community. In 2008, Trae was honored by Houston Mayor Bill White and Council Member Peter Brown with his own "Trae Day" in honor of his outstanding community service.
Also named in the suit are general manager Doug Abernathy and program manager Terri Thomas.
The suit alleges a staff member was suspended for making a mixtape featuring Trae and that popular on-air duo the Kracker Nuttz was recently fired after playing on air by Chamillionaire that featured Trae.
"Seems strange to say, but things for us at the station hadn't been the same (or at least what it used to be) for a very long time," the Kracker Nuttz wrote in a recent blog post.
"I would not have filed a lawsuit, but when other people started being hurt by this ban, I knew I had to stand up," Trae said in a statement.
"I just could not let any more people suffer and be punished by the radio station over this ridiculous vendetta."