Mary J. Blige Returns to Rodeo Houston
JGoode | 3/4/2010, 6 p.m.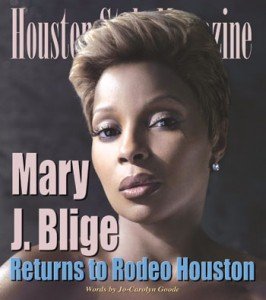 The 2010 HLSR entertainers have established the reputation of wowing their audiences. The HLSR Entertainment Committee has put together the most diverse lineup featuring 23 different stars who have combined musical honors that include 24 GRAMMY awards and 78 County Music Association and 59 Academy of Country Music awards. Nine of the GRAMMY awards belong to the Queen of Hip Hop Mary J. Blige (MJB) who just recently acquired two NAACP Image Awards for Outstanding Album and Outstanding Female Artist.
It has been eight long years since Mary J. Blige made her debut at the HLSR in 2002 where she performed in the last rodeo held in the Astrodome. Thanks to the generosity of the Kroger Company, she returns on March 5, 2010, to Black Heritage Day at HLSR to perform in Reliant Stadium. She is part of the recording industry royalty and is guaranteed to "rock the house."
No doubt that MJB will give a stellar performance that will reflect on her past 9 albums including her latest release "Stronger with Each Tear." Throughout her career Mary's fans has kept her fans on a roller coaster ride of her life all the while she steadily produced quality music. Mary encountered obstacles that might have caused the average person to turn around, but she is made tough and in hard times the tough just get stronger. She might have shed tears in the past but that was then and this is now. There will definitely be no crying when Mary is on the stage at Reliant Stadium but what can be expected is that everyone will be out of their seats rocking to her hip-shaking music and electrifying performance.
For over 15 years Mary has evolved into the superstar that we know today. Her latest album debuted in the number two spot on the Billboard 200 and at number one on the Top R&B/Hip-Hop Albums chart. Just as big as her voice and talent is Mary's heart. Her philanthropic efforts have increased with each passing year. She has been the spokesperson for the M-A-C AIDS Fund and has sung on numerous songs for charitable causes. Her most recent efforts have gone to help the earthquake damage Haiti. In 2008, she established the Mary J. Blige and Steve Stoute Foundation for the Advancement of Women Now, Inc. with the purpose of encouraging women to develop to their full potential by offering scholarships and programs aimed at promoting self-esteem and career development. That is why her selection as an HLSR entertainer is significant. HLSR mainly exists to provide educational scholarships to many deserving youth in Houston and the surrounding areas.
Mary J. Blige performance at the HLSR starts at 6:45 pm on Friday, March 5, 2010 and tickets are still available. Tickets start as low as $16 and can be purchased online at Ticket Master. Other entertainers for the 2010 Rodeo Houston include Tim McGraw, Darius Rucker, Toby Keith, Black Eyed Peas, and Brooks and Dunn. Get a full list of the entertainers and more information about other activities and events at the Houston Livestock Show and Rodeo by logging on to www.rodeohouston.com.