HISD Board approves 2010–11 budget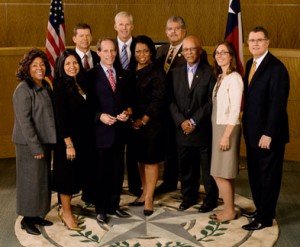 [caption id="attachment_22292" align="alignleft" width="300" caption="HISD Superintendent of Schools Terry B. Grier (far right) with the 2010 Board of Education (L–R): Secretary Carol Mims Galloway, Second Vice President Diana Dávila, Trustee Harvin C. Moore, President Greg Meyers, Trustee Michael L. Lunceford, First Vice President Paula M. Harris, Trustee Manuel Rodríguez Jr., Trustee Lawrence Marshall, and Assistant Secretary Anna Eastman."]
Tonight (June 24, 2010), the HISD Board of Education approved the district's 2010–11 budget. The new budget is balanced with no reduction to the per student allocation for school budgets, no tax hike and no change in the homestead tax exemptions.
The budget includes funding for the Apollo 20 school-turnaround project and increased transportation costs due to the district's choice to lengthen the school year by five days. The new budget does not include salary increases for employees, but it does maintain the step program that provides increases for teachers based on years of service and the type of degree they hold.
Total revenues decreased by $6.3 million from the 2009–10 school year with expenses increasing by more than $60 million, including a $10 million increase in health insurance costs and an increase in the district water bill of more than $800,000.
Approximately $17 million of the increases were covered because HISD's financial team was thinking ahead during the last budget cycle and carried over a "planned" surplus. The remainder of the increases was covered from a series of reductions made from reorganization, departmental cuts and program transformation.
The district saved more than $5.3 million by reorganizing its leadership structure, which included closing the district's five regional offices and replacing them with three Chief School Offices. An additional $15.8 million was saved by eliminating central office positions, making cuts in central office departments and district-wide budgets.
Also included in the budget is $15 million to be transferred to the Capital Projects fund for the district's "Pay-As-You Go" program as part of the overall 2007 Bond Fund Program.
The district also renegotiated contracts and, for example, saved more than $5 million on its contracts with Community Education Partners (CEP), which operates two disciplinary education alternative schools, and the Harris County JJAEP program.
The new budget supports transformational changes in the district to:
• Provide a district wide focus on teaching and learning
• Increase accountability of centralized services to schools for quality, efficiency and effectiveness
• Eliminate duplication of services
• Provide greater oversight for data and compliance
• Retain concept of decentralization of personnel and other key school decisions with principals
• Align resources to needs and priorities
HISD Superintendent Terry Grier said, "Our financial team, led by Chief Financial Officer Melinda Garrett, has done a tremendous job in balancing this budget without affecting school-based budgets. At the same time this budget supports the goal of transforming HISD into the leading school district in the country."
The board votes followed a presentation on the new budget and a public hearing. For more information on HISD's award-winning financial team click here and here.