Five 'Eating Better' Foods to Slip Into Your Diet in '10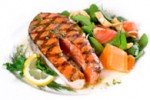 A new year has arrived, and with it, a new list of resolutions. If "eating better" is on your list, nutritionists say, there are a few items you can slip into to your diet that can improve your health and help you ward off certain diseases in 2010.
Katherine Tallmadge, national spokeswoman for the American Dietetic Association and a registered dietitian in Washington, D.C., says you can find these foods in most stores. Best of all, they're high in benefits but low in calories.
Grains
Add oat, barley and rye to your daily diet. Doctors have known that oat can bring down cholesterol levels -- but so can rye, which may become the new "in" grain for 2010. In a study in the current issue of the journal Nutrition, Finnish doctors found that men who had borderline high cholesterol could lower their numbers by eating dense rye bread.
The American Diabetes Association also recommends increasing your intake of dietary fiber and whole grain products, such as rye, to prevent the development of type 2 diabetes. "Rye lowers cholesterol like oats do, and it evens out blood glucose for diabetics," Tallmadge says.
But don't run out and buy regular rye bread at the store. Instead, purchase rye mixed with whole wheat -- it's found in dense, whole-grain breads and in specially made crackers. "I buy the rye crackers," Tallmadge says. "They're low in fat, high in rye and are a perfect snack with low-fat cheese."
As for barley, the U.S. Department of Agriculture found that diets high in barley lowered total cholesterol levels and reduced the risk factors associated with excess weight, type 2 diabetes and cardiovascular disease.
Barley can be cooked and served as a side dish similar to rice or couscous. It can also be used as an ingredient in soups, stews, casseroles and salads.
Dr. Peter Shields, professor of medicine and oncology and deputy director of the Lombardi Comprehensive Cancer Center at Georgetown University Medical Center, has done extensive studies on diet and cancer. He says any diet filled with fiber, either from fruits and vegetables or grains, is good for you.
Soy
Researchers have found that soy can ward off certain cancers as well as help your heart. The Food and Drug Administration says foods high in soy protein may reduce the risk of coronary heart disease. According to the FDA, 25 grams of soy protein a day can cut heart problems by reducing cholesterol levels.
Soy can be found in numerous products, such as tofu burgers, soy meats and soy milk. In order to get the full benefit of soy, the FDA suggests looking for products that have 6.25 grams or more of soy protein per serving and that are low in fat (less than 3 grams), saturated fat (less than 1 gram) and cholesterol (less than 20 mg).
Tallmadge urges parents to introduce soy into their children's diets as well. "We know that when introduced earlier in life, it can have a very strong protective effect against breast cancer and prostate cancer," she says. Soy can also help fight childhood obesity because it's low in fat and calories. Soy also contains vitamins, minerals, fiber and protein for growing little ones, and it comes in a variety of foods that kids like, such as chocolate soy milk, frozen pizza, taco "meat" and "chicken" nuggets.