Missouri City Attorney Ron Reynolds to Challenge Incumbent for Fort Bend County State Representative District 27 Seat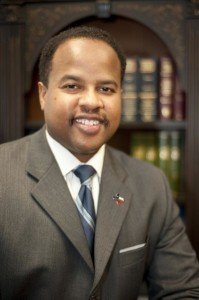 Ron Reynolds, a Missouri City resident, prominent attorney and well-known community activist, will challenge Dora Olivo for the State Representative's seat in District 27 during the March 2, 2010, statewide, Democratic Primary.
Reynolds graduated Magna Cum Laude from Texas Southern University. He received his Doctor of Jurisprudence degree from Texas Tech University School of Law.
Notably, this past President of the Houston Lawyers Association was one of the youngest persons appointed as an Associate Municipal Judge for The City of Houston.
"I'm a proud product of Fort Bend County public schools and have lived in Fort Bend all of my life," said Reynolds. "Not only do I have a public, community-minded stake in the future and prosperity of Fort Bend, but a very personal one as well. Being at the forefront of advocating for education, healthcare and economic empowerment is who I am and what I've always been about."
At a recent fundraising reception, Reynolds affirmed, "When I'm elected as your State Representative, I'll be accessible, accountable and effective. That's what the people of District 27 deserve. The residents need to know that I won't quit--I'll fight hard for them. I urge all Fort Bend County residents to vote on March 2 for real, effective leadership in Austin. There's just too much at stake not to."
This two-time Pinnacle Award winner is a successful small business owner. Currently, Reynolds is a name partner in Brown, Brown & Reynolds Law Firm.
Reynolds actively serves Fort Bend County in the following capacities: President of the Missouri City & Vicinity NAACP; Vice President of the Fort Bend Democrats Club; Parliamentarian of the Sienna Democrats; Fort Bend I.S.D. Bond Advisory Committee; Fort Bend Chamber of Commerce Leadership Class; Co-Chair of Fort Bend International Festival; and Constable Ruben Davis Advisory Council.
In recognition of Reynolds' community service and astute business acumen, he is the recipient of numerous awards including the NAACP ALEX Award for Legal Excellence; Red Cross Humanitarian Award; Missouri City Juneteenth Community Service Award; YMCA Minority Achievers Award; EEOC Civil Rights All-Star Award; Pinnacle Business Award; MLK Drum Major for Justice Award; named Houston's Top 40 Leaders Under 40 by Rolling Out Magazine; named Houston's Top Civil Rights Attorney by H Texas Magazine; and Senator Rodney Ellis' Texas Leader of the Future Award.
Reynolds has received the endorsement of practically every major Democrat elected official in Fort Bend County. Reynolds is married to Dr. Jonita Reynolds and has one daughter. He is a member of Brookhollow Baptist Church.
If elected, Reynolds would become the first African-American State Representative in the history of Fort Bend County.
For more information on Ron Reynolds, call 832.721.2667 or visit www.ronaldreynolds.com.