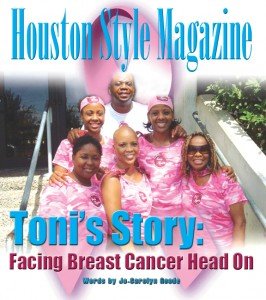 For the past ten years Mary Smith Johnson has laced up her tennis shoes to join others across the nation in the annual Susan G. Komen Race for a Cure. She began walking in memory of her mother's sister. Last year, she not only walked for her aunt, she also walked for her very own sister. "What a difference a year makes!" said Mary.
A year ago her big sister Toni Smith was the picture of health living her life as a real estate agent. She had never been a patient in any hospital nor had a serious illness, yet one day last year as she was getting dressed something unusual happened. "Something inside me just didn't feel right," Toni recalls. After a visit to her doctor, her funny feeling became a reality. She had cancer.
Toni's cancer news hit her younger sister Mary like a ton of bricks. Although the news was shocking, Mary and the rest of the family were not totally blindsided since cancer had been a part of their lives before. The increased risk of contracting cancer in their family history mandated that all members religiously have annual mammograms. Tests revealed that Toni had breast cancer. However, the strain of breast cancer that struck Toni was not hereditary on either her father's or mother's side. Toni was diagnosed with triple negative breast cancer, a rare form that attacks aggressively and is challenging to treat. "Within a month, my whole family's life just changed as we knew it would," said Mary.
As the Smith family gathered after the diagnosis, they bowed their heads, humbled their hearts, and asked God to bestow His healing power on Toni. Boldly and bravely Toni faced the dreaded disease head on with her family by her side. The roles played by big sister Toni and little sister Mary were reversed with Toni now looking to Mary for answers. As a nurse Mary knew far more than the average person about cancer. This was of great comfort to Toni, but it hurt Mary as she found it difficult to separate nurse Mary from sister Mary. Often times in private she would let tears flow from her eyes. Six months of chemotherapy left Toni weak, bald, but not discouraged.
With help from her supportive family Toni is seeing light at the end of the tunnel. No, she is not out of the woods yet, but her little sister's prayer for a break has started to come to fruition. Unable to return to the vigorous lifestyle she had before cancer, Toni is living in her new normal. "I am fine. I can't complain," she says. Toni is doing so well that she plans to join her little sister Mary at the Susan G. Komen Race for the Cure this weekend. She encourages everyone to go get a mammogram. "It is just something that you have to do for your health," said Toni. "I know that fear can stop you, but just think fear can also stop you from saving your life and living a little longer."
Toni's message is one that is proactive, "Find out now rather than never," she says. Mary adds, "It is scarier not knowing." Fear didn't stop Toni and doesn't stop Mary. It is Toni's wish that no member of her family has to go through what she is now going through. "We stay prayerful that we will get the news that the cancer is gone and it is going to stay away," said Mary." God is still in the healing business, so we still believe." And may He heal Toni Smith.
This October 3, 2009, walk for yourself, walk for Toni, walk for a cure!