Brocail to be Guest on Astroline Wednesday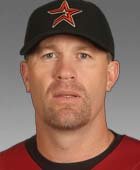 [caption id="attachment_3818" align="alignleft" width="140" caption="Houston Astros' pitcher Doug Brocail"]
The Houston Astros announced today that pitcher Doug Brocail will be this week's guest on the club's popular Astroline call-in radio show on Wednesday, March 25.  Hosted by Hall of Fame broadcaster Milo Hamilton, Astroline is broadcast live from the ESPN Club at Disney's Boardwalk in Orlando, Fla. at 7:00 p.m. CT.  This Wednesday's show ends a five-month program run that started in November and leads into the 2009 baseball season.  The show airs on the club's flagship station, KTRH 740 AM, and is streamed live at www.astros.com .  Archived broadcasts from this year's shows are also available at www.astros.com .
Brocail has posted a career record of 51-48 with a 3.99 ERA and nine saves in 606 career games over 14 Major League seasons. In 2008, Brocail went 7-5 with a 3.93 ERA in 72 relief appearances, a career high besting his previous high of 70 accomplished with Detroit in 1990. The 2009 season marks his fourth season with the Astros.
Hamilton began his Hall of Fame radio career as a disc jockey on the Armed Forces Radio Network during Thanksgiving week in 1945.  The 2009 season will be his 25th season with the Astros and his 58th year broadcasting Major League Baseball.
Astroline features interviews, news, and information on the Houston Astros.  Hamilton hosts a different guest each week. Past guests have included Astros owner Drayton McLane, players, and front office personnel.