Thanks to Bayou City Art Fest, Exemplary Eastwood Academy Receives Mosaic Benches + $3,000 Toward SPARK Park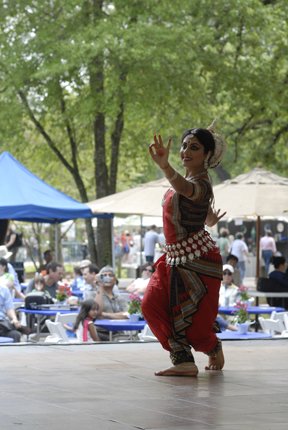 "Capital One Bank considers financial support of local non-profit organizations, such as the Art Colony Association, an investment in the future of our city and its people. As our physical presence has grown in Houston, so has our role as a corporate citizen. Houston is a great place to live and do business, and Capital One Bank is proud to be a leading corporate citizen here," said Capital One Bank-Houston President Annella Metoyer.
Eastwood Academy students have performed outstanding community service on behalf of SPARK at the Bayou City Art Festival's Capital One Bank Creative Zone. It just made perfect sense for the two Art BaYOU! mosaic benches created at this spring's Festival to be donated to their school, according to Art Colony Association Executive Director Kim Stoilis.
For the past four years, Eastwood Academy students have provided the volunteer support required by the Art Colony Association for SPARK to be a Bayou City Art Festival Non-Profit Partner.
At a recent bench dedication ceremony at the school, SPARK Executive Director Kathleen Ownby also commended Eastwood Academy's teen volunteers, 40 to 45 students per festival, and announced SPARK's donation of their $3,000 check from Art Colony Association's Non-Profit Partner distribution to be used toward the development of Eastwood Academy's own SPARK Park. A $75,000 fundraising campaign is underway for the park, which is set to feature a running track. Once funded, the park will be completed in 12 to 18 months at the Houston Independent School District charter school, 1315 Dumble, east of downtown.
Bayou City Art Festival goers of all ages joined Houston artist GONZO247 and CKC StART Street & Urban Arts to make the pair of mosaic masterpieces at Art BaYOU!, a hands-on, collaborative public art project at the Festival. GONZO247 also teaches art classes at Eastwood Academy. His students have painted a mural on their school and have created art totems on campus.
Ranked the #3 art festival in the country by the readers of AmericanStyle Magazine (Feb. '09), Bayou City Art Festival Memorial Park received two 2008 International Festivals & Events Association (IFEA) Gold Pinnacle Awards and was named "Best Festival in Houston" by the 2008 Houston Press "Best of Houston" magazine.
Over the past 37 years, the Art Colony Association, the 501c(3) organization that produces the Bayou City Art Festival Memorial Park and Bayou City Art Festival Downtown, has raised more than $2.5 million for local non-profit organizations.
The SPARK School Park Program is a non-profit organization operating out of the City of Houston Mayor's office. Developed in 1983 as a way to increase park space in Houston, SPARK was created by former City Council Member Eleanor Tinsley to develop public school grounds into neighborhood parks. An inter-local agreement (one of the first in Houston) between the city, the Houston Parks Board and the school district, formally established the SPARK program. SPARK combines the resources of the Department of Housing and Community Development, seven local school districts, Harris County, the private sector, neighborhood group, PTA/PTO groups and concerned citizens.
The City of Houston, Budweiser Select, Capital One Bank, Legacy at Memorial, Houston Parks & Recreation Department and KTRK-TV are the Festival sponsors. The Festival is funded in part by grants from the City of Houston through the Houston Arts Alliance For further information about Bayou City Art Festivals, check www.bayoucityartfestival.com or call (713) 521-0133.