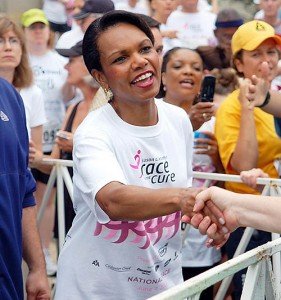 "In just one year, we've grown from just 300 people to more than 10,000 people determined to end breast cancer for women of color," said Andrea Anderson, director, integrated marketing, Susan G. Komen for the Cure®. "We've traveled to Africa. We've been to the Caribbean. We've been to neighborhoods right here in the United States where women of color face significant challenges to care."
"We are energized, we are empowered, and with community support, we will make serious inroads into the breast cancer crisis for African-American women," Anderson said.
The challenge is significant:  Breast cancer mortality rates are higher in the African-American community than for Caucasian women. African-American women often face more aggressive forms of the disease, and do not survive as long with their illness.  Screening and education programs are often unavailable or of poor quality.
This led Susan G. Komen for the Cure®, the world's leading breast cancer organization, to launch the Circle of Promise in October 2007, aimed to all women of color and launched first in the African-American community.
The organization has donated several million dollars for scientific research and community programs geared to addressing the breast cancer crisis for women of color, including $1 million in 2008 to launch the Chicago Breast Cancer Quality Consortium, and another $1 million for a study including race in breast cancer.
African-American leaders have embraced Circle of Promise.
• The Trumpet Awards Foundation, founded by Atlanta's Xernona Clayton, has been a long-time supporter of Susan G. Komen for the Cure®. The Circle of Promise is a sponsor of the 2009 Trumpet Awards, an event created to herald the accomplishments of African-Americans who have succeeded against immense odds.  Katrina McGhee, vice president, marketing, Susan G. Komen for the Cure® will be honored during the 2009 Trumpet Awards in Atlanta.
• Actress Gabrielle Union, philanthropist Malaak Rock and Billye Aaron joined a Komen mission trip to Africa this past summer to dedicate a hospital. Breast cancer affects a relatively young population in Ghana; girls as young as 16 have been diagnosed with the disease.
• The Links, Inc. has supported the Circle of Promise in the United States and abroad. The Links, Inc. will host a reception during the Presidential Inauguration in Washington, DC naming Circle of Promise the beneficiary of proceeds from the event.
• Artist Synthia SAINT JAMES unveiled a signature painting to raise funds for the Circle of Promise campaign.
• Newscaster René Syler has participated in signature Komen events, as have prominent doctors and scientists.
• Essence magazine has joined Circle of Promise as a partner, making Circle of Promise the beneficiary of their annual Women Who Are Shaping the World Leadership Summit.
• TV One and Luster Products, Inc. have formed a partnership with Circle of Promise to produce a television documentary in 2009 focusing on breast cancer in the African-American community among both women and men.  TV One also will produce four public service announcements (PSA's) in 2009 with Circle of Promise Celebrity Ambassadors Richard Roundtree, Lalah Hathaway, Gabrielle Union and René Syler slated to record the PSA's.
African-American women across the United States are encouraged to join the Circle of Promise movement by signing up at www.circleofpromise.org. In one year, membership has grown to more than 10,000. Members are encouraged to continue the fight with the Circle of Promise by supporting public policy efforts, helping to raise funds for research and making sure that the Circle of Promise is alive in their own communities.