Fall in Love with the Chevrolet Traverse
JGoode | 1/8/2009, 5:10 p.m.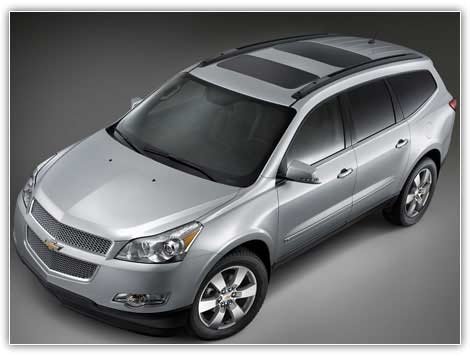 As a car reviewer I drive a lot of cars. Someone who is always waiting to get in on the passenger side of the cars I review is my mom. She loves the new car smell and is always excited to see what car I will drive next. Usually her response to seeing me in a car is "This one is nice" or "Cool," but when I drove up in the 2009 Chevrolet Traverse all I heard was "I love it." I have to agree with my mom, I love the Traverse, too.
The 2009 Chevrolet Traverse is hard not to love as it appeals to so many. Its attractive modern exterior is an immediate eye catcher. Its long sleek lines and smooth curves remind me of an extended Buick Enclave. It has a luxurious classy look instead of the classic minivan soccer mom look. Its frame resembles that of a car but it has the height of an SUV and the length of a minivan, making it a great crossover vehicle. The crossover feel is continued once inside. The height of the frame actually fooled me when stepping in and out of the vehicle by being higher up than I anticipated. I love the feeling of superiority that SUVs give because they ride higher than cars on the road. Another source of bewilderment was the smooth ride for a vehicle of its size. The 3.6 L V6 engine produces 281 horsepower with 17-mpg city and 24 mpg highway. In addition, handling the Traverse was not a chore but an enhancement of the overall performance. It really hugged the road and allowed me to have full control and range of motion when driving.
Something else giving motion were the passenger seats. The middle row of captain's chairs can fold up making it easier for third row occupants to board and exit the vehicle. The third row can fold flat for ample storage. Back seat riders can be entertained with the state of the art DVD player and CD/MP 3 player that has an auxiliary audio jack and satellite radio. They will also be out of the driver's hair and become couch potatoes on wheels because the system comes complete with two headsets and a remote control. Ha! Hot tempers will not rear their ugly heads in the Traverse, as all will be evenly tempered thus comforted by the tri zone auto climate control. What's that? Individualized temperature controls are available for the driver, front seat passenger, and back seat riders. With everyone happy the driver can keep his/her eyes on the road and will not have to turn around to keep the peace. This alone can serve as a safety factor for the Traverse. The driver doesn't even have to turn around to put the vehicle in reverse since it equipped with a rearview camera and rear parking sensors to ensure clear passage when backing up.
This is just a taste of why I love the Chevrolet Traverse but allow me to give an additional reason, more bang for your buck. Traverse is reasonably priced, compared to others in its class at $29,990. So stop by your local Chevrolet dealership and fall in love with the Chevrolet Traverse or log on to www.chevrolet.com.