Manager Cecil Cooper to be Guest on Astroline Wednesday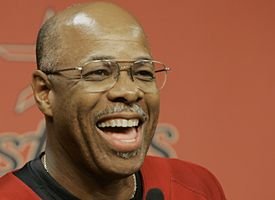 The Houston Astros announced that Manager Cecil Cooper will be this week's guest on the club's popular Astroline call-in radio show on Wednesday, February 25, at 7:00 p.m.  Hosted by Hall of Fame broadcaster Milo Hamilton, Astroline moves to the ESPN Club at Disney's Boardwalk in Orlando, Fla. The show is broadcast live and airs on the club's flagship station, KTRH 740 AM, and is streamed live at www.astros.com. Archived broadcasts from this year's shows are also available at www.astros.com.
Cooper, in his first full season as the manager of the Houston Astros and his second overall, led the Astros to 86 wins in 2008, a 13-game improvement from the previous year and the second-largest turnaround in franchise history. Cooper's 2008 Astros team had the best record in the National League in the second half at 42-22 and led all clubs in fielding percentage (.989) while committing the fewest errors of any team (67).  The 2008 campaign was Cooper's fourth year on the Astros staff, as he served as the club's bench coach from 2005 until he was named interim manager on Aug. 27, 2007.  A 17-year Major League veteran, Cooper batted .298 with 241 home runs and 1,125 RBI.  He was selected by Boston in the 27th round of the 1968 draft and made his big league debut with the Red Sox in 1971.
Hamilton began his Hall of Fame radio career as a disc jockey on the Armed Forces Radio during Thanksgiving week in 1945.  The 2009 season will be his 25th season with the Astros and his 58th year broadcasting Major League Baseball.
Astroline is in the midst of its five-month run leading into the 2009 baseball season and the program is broadcast each Wednesday at 7:00 p.m.  The show finishes its broadcast in Florida as the Astros prepare for the upcoming season at their Spring Training complex in Kissimmee, FL.
Astroline features interviews, news, and information on the Houston Astros.  Hamilton hosts a different guest each week, including Astros owner Drayton McLane, players, and front office personnel.