Senate Reform Bill Passes Last Hurdle en Route To Passage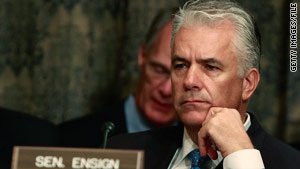 [caption id="attachment_16678" align="alignleft" width="300" caption="Sen. John Ensign, R-Nevada, argues it\'s unconstitutional to require all Americans to buy health insurance."]The Senate health care bill cleared a third and final procedural hurdle Wednesday as Democrats successfully limited remaining debate time on the $871 billion measure.
The Senate voted 60 to 39 along party lines to set a timetable for likely passage of the bill early Thursday morning.
Democrats also turned back last-ditch motions from Republicans claiming various provisions in the bill, including a mandate that individuals purchase coverage, are unconstitutional.
The expected victory for President Barack Obama's top domestic priority comes after nearly a year of sharply polarized deliberations on Capitol Hill. Any measure passed by the Senate, however, will still have to be merged with a $1 trillion plan approved by the House of Representatives in November.
Increasingly confident Democrats hope to have a bill ready for Obama's signature before his State of the Union address early next year.
Video: Health care work takes toll on Senate
Video: Top Democrat on deal to set vote
Video: Senate health bill moves forward
RELATED TOPICS
* Health Care Reform
* Barack Obama
* U.S. Senate
* John Ensign
"Health care reform is not a matter of if," White House Press Secretary Robert Gibbs said Tuesday. "Health care reform now is a matter of when."
If a combined House-Senate health care bill clears Congress and is signed by Obama, it would be the biggest expansion of federal health care guarantees since the enactment of Medicare and Medicaid over four decades ago.
Republicans have mounted a no-holds-barred legislative campaign against the bill, using a series of procedural maneuvers to slow debate while arguing that the measure will raise taxes while doing little to slow spiraling health costs.
They've also ripped Senate Majority Leader Harry Reid, D-Nevada, for garnering the 60 votes necessary to pass the bill in part by cobbling together a series of "sweetheart deals" for wavering members of the Democratic caucus.
"This bill is a grab bag of Chicago-style back room buyoffs," Utah GOP Sen. Orrin Hatch said Wednesday.
Recent compromises made to win the backing of moderates such as Sen. Ben Nelson of Nebraska and Sen. Joe Lieberman of Connecticut also angered many liberal Democrats and threatened to undermine support for the bill.
Democrats have now held three key procedural votes on the health care bill this week. The backing of all 60 members of the Democratic caucus was required during each vote in order to overcome a filibuster from a GOP minority united in opposition.
Final passage of the measure, in contrast, will require only a bare majority in the 100-member chamber.
Enthusiastic top Democrats argue the Senate bill would constitute a positive change of historic proportions. The legislation, according to the non-partisan Congressional Budget Office, would extend health insurance to more than 30 million Americans currently lacking coverage while reducing the federal deficit.
The House and Senate bills agree on a broad range of changes that could impact every American's coverage.