Eating Well and Enjoying It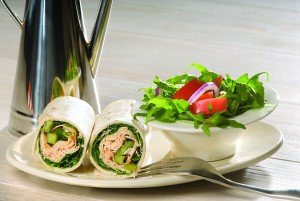 In addition to whole grains and a wide variety of fruits and vegetables, part of a healthy meal plan includes meat and plant-based protein foods. Meat and meat substitutes, such as soy products
and cheese, are great sources of protein. Here are some more examples of protein choices:
dried beans/legumes, peas and lentils
soy products such as tofu and edamame
eggs, egg substitutes, cheese
lean deli sliced meats with three grams of fat or less per ounce, such as certain brands of beef, chicken or turkey
One way to enjoy a delicious, protein-based meal is a Blazing Buffalo Chicken Wrap.
The lean flavorful meat combined with fresh veggies, spicy spread and a taco size tortilla, make this wrap a tasty and satisfying way to truly enjoy eating well.
To help people make healthy eating choices, throughout 2009, Boar's Head Provisions Co., Inc. and the American Diabetes Association will work together to champion the cause of diabetes prevention by promoting healthy lifestyle options through good eating habits and physical fitness. Boar's Head Provisions Co., Inc., is a manufacturer of premium delicatessen products for over 100 years.
For more information and recipes, visit HYPERLINK "http://www.boarshead.com" www.boarshead.com.
Blazing Buffalo Chicken Wrap1 serving
This recipe has been reviewed by the American Diabetes Association.
1/2 ounce diced celery
1/2 ounce chopped green bell peppers
1/2 ounce spring mix lettuce
1 96 percent fat free tortillas, taco size
2.5 ounces Boar's Head Blazing Buffalo Chicken
2 tablespoons Buffalo Spread
Spread the Buffalo spread on the tortilla. Place rest of ingredients on tortilla and carefully wrap. Optional: serve with 2 tbsp blue cheese salad dressing.
Nutrition Facts per Serving: 264 calories, 22 g protein, 29 g carbohydrate, 4 g dietary fiber, 7 g total fat (1.5 g saturated fat, .01 trans fats), 49 mg cholesterol, 1120 IU vitamin A, 16 mg vitamin C, 991 mg sodium, 137 mg calcium, 3 mg iron
Buffalo Spread Recipe6 servings
1/4 cup hot sauce
1/2 teaspoon lemon juice
1/4 teaspoon black ground pepper
1/4 cup light mayonnaise
1/4 cup light sour cream
Place all ingredients in bowl and combine.
Nutrition Facts per serving: 48 calories, .8 g protein, 1.5g carbohydrates, .08 g dietary fiber, 4 g fat, (1.2g saturated fat, 0 g trans fat) 7 mg cholesterol, 222 IU vitamin A, .62 IU vitamin C, 146 mg sodium, 21 mg calcium, .12mg iron.