Former Houston Texans Players Take Advantage of Prostate Cancer Screenings as Part of a 10-City NFL Player Initiative Encouraging At-Risk Men to Do the Same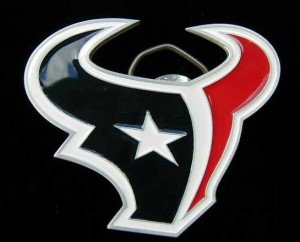 The prostate health research and awareness program in Houston will be the seventh in a 10-city series that the NFL Player Care Foundation has initiated to address the medical needs of retired players. The Houston program hopes to duplicate the success of the Hall of Fame screening which screened 24 players, the Kansas City Chiefs' program on October 18 which resulted in 26 screenings, the Washington Redskins' screening on November 8 which resulted in 23 screenings, the Atlanta Falcons which resulted in 55 screenings, the Tampa Bay Buccaneers screening event on January 30/31 with 42 players screened, and the Dallas Cowboys screening on February 17 with 33 players screened.
This initiative is designed to bring much-needed public awareness to the topic of prostate health, as well as to emphasize the importance of screening to maintain a healthy prostate. The AUA Foundation encourages at-risk men to take advantage of this opportunity not only to get screened for prostate cancer, but also to help spread the word about prostate health.
The NFL Player Care Foundation was created in 2007 to address retired NFL players' health and quality-of-life issues. It is supporting this initiative in order to promote prostate health awareness and to collect research data regarding the incidents of prostate cancer in retired NFL players. The screenings are free for retired NFL players and all personal medical information collected during the screening will remain confidential. However, the de-identified data collected from each screening will be pooled with the results of other screenings to generate research data that can be used by scientists in the fight against prostate cancer.
"Prostate cancer is the most common cancer affecting only men in the United States and it is extremely important for men to be vigilant about getting screened," said AUA Foundation Executive Director, Sandra Vassos, MPA. "We are so pleased that the NFL and the NFL Player Care Foundation have made awareness for this disease a priority and that we can help facilitate this initiative."
More than 27,000 men will die from prostate cancer every year, according to the AUA Foundation. Screening and early detection is the best defense against the disease. Prostate cancer is most treatable when found early. The American Urological Association (AUA) recommends annual screening starting at age 50. African-American men and those with a family history of the disease are at a greater risk and should begin screening earlier.
"Retired NFL players should be proud that they are taking charge of their health and serving as leaders in the community. We hope that this will encourage other men to get screened for prostate cancer," Vassos said.