Winter Wonders: Warm Ice Cream Treats Heat Up Chilly Days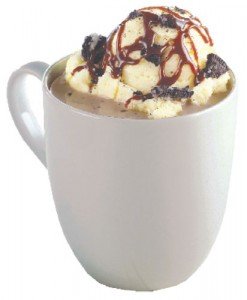 "Americans enjoy ice cream year round," says Ray Karam, Cold Stone Creamery®, senior tastemaster. "In fact, research shows that nearly as much ice cream is consumed in the winter months as in summer."
However, Karam points out that ice cream aficionados may satisfy their cravings differently during the winter. Hot apple pie a la mode, brownie sundaes topped with hot chocolate and other treats that marry hot with cold become increasingly popular as temperatures drop.
With a bit of ingenuity, anyone can turn up the heat on their ice cream creations. Two inspired recipes put a twist on traditional winter favorites. The first tops velvety hot chocolate with dark chocolate peppermint ice cream,  whipped cream and a drizzle of chocolate sauce, while the second uses frozen ice cream balls for an innovative take on fondue.
These recipes work especially well for kids and adults alike, because guests can personalize their own hot chocolate or fondue with a variety of fun toppings. They're also great for holiday parties, prep is kept to a minimum, and quantities can be adapted to serve crowds large or small.
Hot Chocolate Topped with Ice Cream
Makes: 4 to 6 servings
Ingredients:
1 quart Cold Stone Creamery Grab-n-Go, Tall, Dark and Minty™ Creation™ made with Dark Chocolate Peppermint ice cream
Hot chocolate
Toppings to taste -- whipped cream, chocolate sauce crushed OREO® cookies
Preparation:
Prepare favorite hot chocolate recipe as desired
Scoop one serving of ice cream over hot chocolate and serve with a spoon, top with whipped cream and a drizzle of warm chocolate sauce or crushed OREO® cookies.
Ice Cream Fondue
Makes: 8 to 12 servings
Ingredients:
1 quart of your favorite Cold Stone Creamery ice cream flavor
4 bottles SMUCKER'S® Magic Shell Topping
Toppings to taste--nuts, chocolate chips, coconut, candy, sprinkles or crushed OREO® cookies
Toothpicks to serve
Preparation:
Pre-chill a large cookie tray in the freezer for 20 to 30 minutes.
Working quickly, so the ice cream doesn't melt, use a melon ball scooper to make small round scoops of the ice cream and place them on the pre-chilled cookie tray. Insert a large sandwich-style toothpick into the top of each of the ice cream balls.
Place tray in freezer to freeze firmly (about 1 to 2 hours).
In a medium-sized bowl, pour in 4 bottles of SMUCKER'S® Magic Shell Topping (approximately 21 ounces.). Leave at room temperature. On a plate or in a bowl, spread out about 4 cups (per quart) of desired toppings.
To serve the "fondue," take an ice cream ball by the toothpick and dunk it in the Magic Shell. Hold ball over the bowl to let any excess chocolate drip off and wait approximately 10 seconds for it to start to harden. Roll the ball in the toppings to cover.
Serve and enjoy!
Visit www.coldstonecreamery.com for more recipe ideas.
Courtesy of Family Features