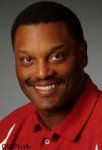 After former University of Houston head football coach Art Briles' defection to Baylor University and a spanking new 7-year/$12 million contract, UH athletic director Dave Maggard knew it was time to upgrade the program's standards, and inject some new blood into the team, which had not won a bowl game since 1980. (For those counting at home, that's 27 years -- almost 30 years. Texas Southern and Prairie View should be proud.)
"I'm coming here to win championships," said Kevin Sumlin at a recent press conference as he became just the 11th Houston football head coach in the university's history. The 43-year-old Sumlin was chosen as the head man over Jack Pardee, who is 71 and hasn't been a head coach in more than 12 years.
Of course, with new blood comes new experiences. This is Sumlin's first head coaching job, and here's hoping his optimism and ambition spills onto his new followers.
"A gold mine," Sumlin said. "I really, really couldn't be more excited about being here at the University of Houston. I think everything is in place for us to be successful."
Sumlin's hire comes only a few weeks after another new coach was introduced across Scott Street at Texas Southern University. Johnny Cole was recently named head coach at TSU after former signal-caller Steve Wilson went 0-9. Ironically, Wilson was let go just before the 59-6 embarrassment at the hands of the Houston Cougars.
Sumlin won't be replacing anything near the losing culture that is the Tigers' football program. UH went 8-4 in the 2007 regular season, including going 6-2 in Conference USA. The Cougars will play their bowl game December 28th against TSU.
Despite the breath of fresh air Sumlin will most likely bring, he'll have to go a long way to impress one UH student. "He won't be there long," said Justin Flakes, a 23-year-old senior. "It's his first head coaching spot. Give him 3 years and he'll be looking for something better."
And how will Sumlin do at Roberson Stadium? "It's hard to say," said Flakes. "he didn't do much at Oklahoma with Bob Stoops. Hopefully he can recruit well in Houston. He should be better than Briles before he goes somewhere else."
Of course, he's alluding to Sumlin's former position as special teams coach-turned co-offensive coordinator/receivers coach at Oklahoma University before accepting the position in the Bayou City. Could he be in it for the long haul, or could Houston just be another stop on the Sumlin road to college football lore?
"I view this as a great opportunity for us," Maggard said. "I'm not worried about the whole business of a steppingstone thing like a lot of people are. If you have a good, solid program that can attract people, you don't worry about that as much. Do you want vagabonds? No. I think it makes cynics out of the kids.
"But if somebody wants to better themselves, and they do a great job and they look at it in the right way, I'm OK with that. I think it's shortsighted to some extent to say, 'Where are we going to be in 10